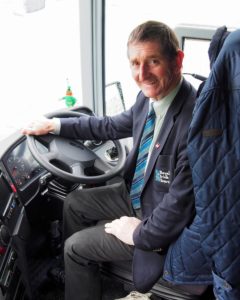 As you know, Royal Irish Tours is Toronto based, but it's their great network of Irish men and women on the ground that make it possible for RIT to make your dream holiday a reality.
One of these people is west Limerick man Joe O'Connor from Rathkeale.
A coach driver with RIT for 12 years, Joe loves Ireland and loves passing on the knowledge he has of the country to RIT customers.
"Ireland has so many aspects to it. In the midlands you have the green, lush pasturelands, then near the coast you have the small mountains," Joe told me.
"Then in Donegal and Connemara you have the bogland and the turf that is used to heat the homes.
"In places where they have the turf, they cut it and use it.
"Then there is the Burren in Clare. It means rocky, useless land. It's where [chief minister to King Henry VIII of England] Thomas Cromwell said, "There's not enough timber here to hang a man, not enough water to drown a man, and not enough clay to bury a man.
"Further down into Kerry you have all the mountains. You have the Macgillycuddy's Reeks near Killarney and Carrauntoohil, the highest peak in Ireland.
"So you've got so many aspects to Ireland; if you drive two hours here you get a different lanscape.
"If you drive two hours in Canada you're basically in the same place."
Joe likes to place guests in the culture of the regions of Ireland they visit, and uses media to do so, saying: "I'd show a film of The Quiet Man, when we're travelling in Connemara for example, as it was filmed there.
"In Donegal I'd play Daniel O'Donnell music on the coach becaues he's a well-known singer from there.
"In different places we play different things."
Joe is a passionate Irishman, but when pushed on a favourite destination within Ireland he plugs Mullaghmore, Co Sligo, saying:  "It's where British statesman and naval officer Lord Mountbatten was assasinated.
"It's a beatiful drive up there."
Joe – ever the RIT representative – is also keen to point out the good value of the 14-day coach tours, telling me: "Of the 14 nights, you get dinner 12 nights, so people like that, because they know exactly how much it's going to cost them.
"Once they have their money paid that's basically it."