Galway, a Norman city on the banks of the River Corrib, in the west of Ireland, knows how to have a good time. Due west of Dublin, the city is reached in a couple of hours' drive and entices many a Dubliner out west to sample its superb atmosphere and nightlife.
Named the City of the Tribes, as a result of it being run by 14 tribes of merchants' families during its Norman period, the Vikings never made a settlement there, which gives the city a unique feel of being a predominantly Norman town, unlike the other metropolises on the island. Architecturally, it's a mix of this Norman heritage and the modern architecture that has come to pass in more recent times.
However, it is far from isolationist, with a rich history of trading between France and Spain making the city a cultural melting pot, which has continued today, as visitors from all over the world are drawn there to sample its world famous hospitality.
Bars and restaurants galore in the city centre
The heart of the city runs from Eyre Square down William Street to Shop Street to High Street to Quay Street and ends at the Spanish Arch, which is a section of the old city wall.
That group of streets is lined with bars, restaurants and coffee shops and one could write an article on those alone.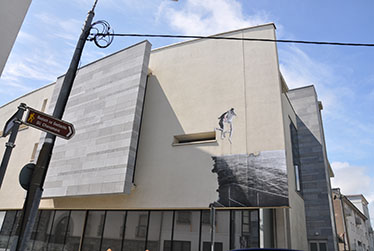 Where to stop off is a matter of personal choice as the customers spill out onto the street if the weather is clement enough and mingle as one, with the watering holes serving as pit stops for refueling.
In terms of food, one of the best restaurants in town is Ard Bia at Nimmos. Housed in an old docklands building, the location oozes character, and the food is superb, mixing local ingredients with a hipster touch. It's not a huge establishment so make sure to book early.
From there, for a post-dinner drink, head back up the main thoroughfare of the city, see where is heaving and grab a pint. A few recommended establishments are The Front Door, The King's Head and Tig Coili.
The West End
It's said by the locals that the previously mentioned section is more tourist focused, and that the locals tend to drink across the bridge from the Spanish Arch in the West End. Although, I've always taken the approach that why not be a tourist when on holiday?
But if you do venture down to the West End, there is a fine selection of places to be merry. French brasserie, Rouge, located on Dominick Street Lower is a fantastic establishment: think low-key French food, with a great wine list in an atmospheric and beautifully designed restaurant. Add in a pianist tinkling the ivories and this is a great spot to start an evening, or even spend a whole night at.
If you manage to leave Rouge, just a few minutes' walk away are some excellent bars. Munroe's on Dominick Street Upper is superb, with live bands upstairs and downstairs and an eclectic mix of tourists and locals. Just around the corner is Róisin Dubh, which is another option to hear live music, and just next door is the Bierhaus, which serves a fantastic collection of craft beers and has a more chilled out atmosphere.
As you might have gathered from the above, Galway City really is about the craic and banter and getting out in the evenings, meeting people, and sampling the best food and beverages the city has to offer.
Salthill
A short drive from the city is Salthill, which after a night of celebration is a fantastic place to recover your senses. Grab a cab or drive down from Galway proper and take a stroll along the promenade, which looks out across Galway Bay, which even on a day of bad weather has a stunning vista.
When you get to the end of the beach there's a swimming spot at Blackrock, which has lifeguards and is the best place to go for a swim. The water of the Atlantic this far north-east isn't for the faint hearted, but if you have the inclination then go for it.
After a quick dip in the ocean there are multitude of places to warm up and have a coffee and bite to eat. The Black Cat comes highly recommended, with its modern interior and enticing menu, it's a slice of modernism that is a very good addition to this little seaside town and a good place to kick back with some WIFI and watch the world go buy from a window seat.
Shortest walking tour in the world at O'Connor's pub
I touched on the Norman history of the city earlier, but if you want to find out more about the town and its citizens' history, then the best man to talk to is local historian Brian Nolan.
As well as twice daily tours of Galway City leaving from O'Connell's Bar at 1030am and midday daily, his 50foot tour around O'Connor's Pub in Salthill is known as the world's shortest walking tour and gives an insight into one of the country's most unique public houses. O'Connor's is third generation owned and has an assorted collection of antiques and bric-a-brac that's valued at several million euro.
Brian gives an insight into Irish, Galwegian and O'Connor's history, in an informal and informative manner, while you sup on a creamy pint of Guinness.
Gateway to the west
Having soaked up Galway's hospitality, the likely next stop on your itinerary is the west of the country and Connemara, arguably the most beautiful part of the island.
From Galway City, known as the gateway to the west, one is able to drive off into the heartland of Connacht to view one of countless sights of natural beauty. Connemara National Park and its bog and mountain setting should be on most visitors' lists.
For traditional music lovers, the music and craft store in Roundstone affords the chance to buy a homemade bohran.
For my favourite view in the country, head out of Clifden to take in the Sky Road, which rises up before reaching a plateau where you can park and look down on the cottages and fields located on the edge of the Atlantic coast, where islands neighbour the mainland for several kilometres.
Kylemore Abbey, standing alone surrounded by forest and casting its reflection out on the lake before it, is one of the country's most stunningly beautiful buildings, and a must on your to do list.
And the Inagh Valley, with fields of rock and grass stretching out in rugged beauty on either side, is another location that leaves one's jaw dropped in appreciation if its stark beauty.
One thing is certain about a journey to Ireland, that a trip to the island nation isn't complete without a visit to Galway and the west.
Useful Links: